GTG Minis
Experience endless gaming possibilities with 15+ mini-sets of over 700 high-quality miniatures. Immerse yourself in countless adventures and campaigns with our stunning colored artwork that brings each miniature to life. With precise die-cutting, no assembly is required – just open, insert, and play.
SHOP NOW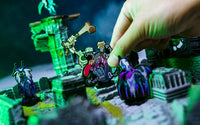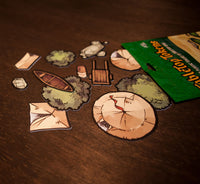 Tabletop Tokens
Upgrade your gameplay with our premium tokens. Featuring double-sided, colored artwork and precise die-cutting, they're ready to use right out of the box. Enhance your campaign without the hassle of hand-drawing battlemaps. Expertly crafted for durability and convenience.
Shop Now
Accessories
Our mini base kits provide a stable foundation for your tabletop miniatures and come in various sizes to suit your needs. Our storage sheets are perfect for organizing and protecting your game pieces, ensuring that they stay in top condition for years to come. And don't forget to pick up our company stickers to show your support and add a little flair to your gaming gear.
Shop Now
Over $500K raised on Kickstarter with over 7,000 backers
WHAT OUR CUSTOMERS SAY
SO MANY MINIS TO CATALOG AND ADMIRE BEFORE MY PLAYERS GET MURDE-- I mean... Make some new friends, yep!

Kage_Okami
I just got my kickstarter of the GTG minis. Holy crap. The quality of these is so good for being flat minis. I am blown away by how good these are.

Robert Prine
Making maps can be a bit of a time killer, especially if you know that your session will cover more than one scene. Geek Tank Games' TableTop Tokens can significantly cut down on prep time.

POPGEEKS.NET
I received my order today, and the Trashmob style artwork is fantastic! Although I forgot to check my email for the shipping details, the GTG team did a great job catching up my order. Thanks, GTG! I'm now planning to collect more 2-D minis from different sources.

Wade Harlan Crawford
Got mine yesterday, and really love the quality of these tokens! And I love the packaging
too, I can keep them safely stored in the resealable plastic bags they came in. Will be
using in my game tomorrow, thanks for a really great product!! A+++

Kevin Peter
One of the items I've purchased is Tabletop Tokens - Trees & Rocks, Campground and Siege Weapons.
Those are AWESOME! They work exactly as I had hoped and are a reasonably priced product that make a great addition to my game.

Kyle Wildi